We keep your Business Moving
Looking for service, maintenance or repair support? Look no further than the Premier Ford Transit Centre.
FordPro™ Service is Ford's Commercial Vehicle Service Promise, committed to minimising downtime of your vehicle and expense to your business, at your
convenience. Having your Ford vehicle serviced at one of our Transit Service dealers means you'll benefit from Ford-trained technicians using genuine Ford parts,
along with specialised equipment and tools to handle all Ford Commercial Vehicle service, maintenance and repair work, including warranty.
Call: 01983 245040​
Book a service today using the Ford Online Service Booking Tool.
To identify the service schedule amd service price for your specific vehicle and to place a booking, please click on the Ford Online Service Booking link.
---
FordPro™ Service Pricing
Model

Price

Service

Price

New Ford Fiesta Sport Van

Minor Service From £260.00

Major Service From £345.00

Motorcraft Service
From £239.00
Ford Transit Connect (Older Model)

Minor Service From £250.00

Major Service From £410.00

MOT
From £54.85
Ford Transit Connect, Euro Stage 6.2 (Newer Model)/strong>

Interim Check From £120.00

Minor Service From £250.00

Major Service From £455.00

Key Fob Battery
From £9.95
Ford Transit Courier, Euro Stage 6.2

Interim Check From £120.00

Minor Service From £245.00

Major Service From £455.00

Brake Fluid Change (Every 2 years)
From £59.95
Ford Transit

Minor Service From £205.00

Major Service From £265.00

Air Con Refresh (Every year)
From £34.99
Ford Transit Custom

Interim Check From £120.00

Major Service From £295.00

Air Con Regas (Every 3 years)
From £125.00
Ford Tourneo Custom

Interim Check From £120.00

Major Service From £295.00

Ford Ranger (2.2 / 3.2 DuraTorq TDCi) Euro Stage 5

Minor Service From £355.00

Major Service From £435.00

Ford Ranger (2.0 EcoBlue), Euro Stage 6.2

Minor Service From £245.00

Major Service From £605.00
Disclaimer: All prices shown above can be subject to change, please only use as a guideline. Please contact us to find out the exact price of the service you require.
---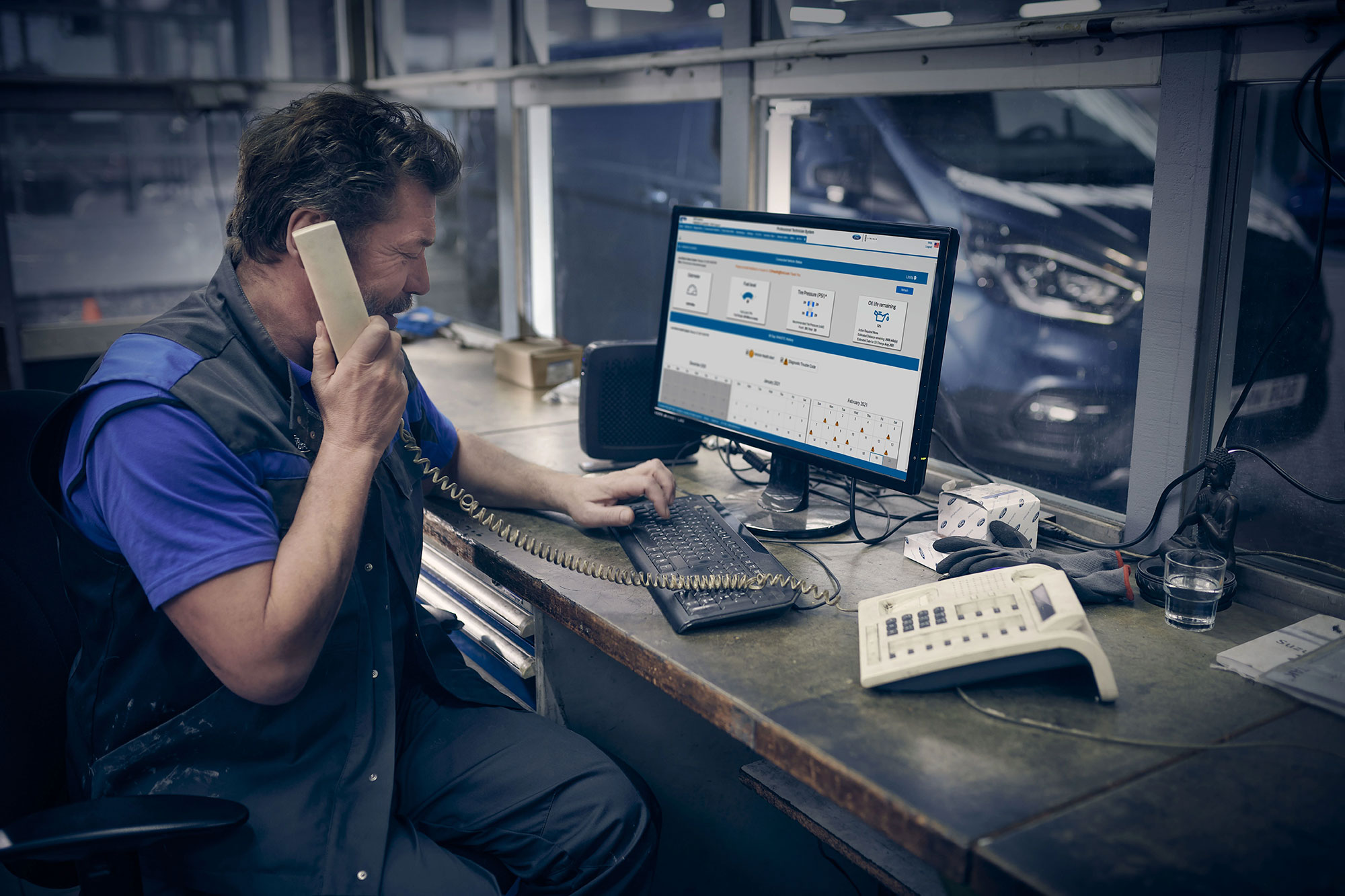 What does FordPro™ Service Offer?
Working Around Your Schedule At Premier Ford, we offer a range of services to keep your business on the road:
Extended Opening Hours
Smart Support
Express Service
Video Check
Collection and Delivery
Mobile Service
---
FORDLiive
FORDLiive enables smarter maintenance decisions, faster turnaround & dedicated, data-driven technical support to minimise vehicle downtime. We are here to keep your commercial vehicle and your business healthy.
FORDLiive is an integrated suite of products and services designed to maximise the productive uptime of your connected Ford commercial vehicle.
FORDLiive is available when you activate your modem through FordPass Pro or one of our Telematics packages. Once activated we will be able to identify any required work on your vehicle and agree with you the best schedule to keep your business moving. Read much more about FORDLiive on our dedicated page.
---
Our Service Promise
Collection and delivery: This takes place on appointment and within a reasonable travelling time. We even wash your vehicle so that it looks its best.
MOTs and more: MOTs (including Class 4, 5 and 7 tests), tachograph servicing and speed limiting (VOSA approved)
Unscheduled repairs: When your commercial vehicles aren't at work, neither are your drivers. Our priority is to get both back on the road as quickly and efficiently as possible.
Ford parts availability: Parts either in stock or delivered by 12 noon the following working day.
Ford diagnostics: For speedy and accurate fault diagnosis, we provide a sophisticated, internet-linked vehicle diagnostics system.
Ford trained technicians: Our team of Ford-trained technicians are supported by online technical information and a Ford technical hotline.
Priority treatment for urgent repairs: Initial diagnosis on urgent (vehicle off-road) repairs is carried out to same-day-inspection, with parts ordered where necessary. We aim to complete most repairs the same working day.
Genuine Ford parts quality: All parts are designed and engineered by Ford, to Ford standards. Parts fitted to a vehicle outside of warranty carry a 'fitted in service' parts warranty. We also stock a wide range of commercial vehicle tyres.
Dedicated Backup from Ford: An electronic recall programme, Fleet Service Centre and free Fleet Accident Management service.
So, whether it's servicing, maintenance or repair you need, be sure to come and see us at our Transit Centre, Riverway, Newport.